Trusted experts in division 8 related products
Location: Schofield, WI
p: 715-841-8757 f: 715-841-8773
Airolite has been helping architects successfully enhance the appearance and performance of buildings all over America for more than 95 years and today offers architectural louvers, custom grills, sunscreens, and sun controls. Airolite is an American brand that ensures you will recieve exceptional workmanship, partnership, and leadership. All Airolite's products are designed and assembled in the United States.
Location: Huntington Beach, CA
p: 562-926-9520 f: 562-404-1394
Aluflam has mastered what was long considered impossible - using extruded aluminum frames for fire rated glazing applications. Although traditional aluminum is not known for its fire resistant properties, Aluflam's patented technology that combines insulated aluminum framing and laminated glass make it a proven reality. Aluflam's frames are narrow, sharp, and blend much better with existing non-rated designs. Additionally, finishing options include a wide range of anodized colors.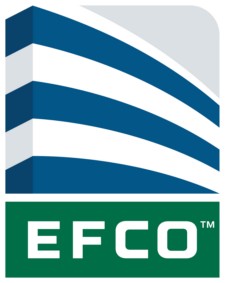 Location: Monett, MO
p: 417-235-3193 f: 417-235-7313
EFCO Corporation is a leading manufacturer of architectural aluminum window, curtain wall, storefront and entrance systems for commercial architectural applications. Headquartered in Monett, Missouri, our mission is to be the most trusted supplier in commercial architecture. We seek to provide customers with the highest level of quality, innovation, value, and service.
Location: Houston, TX
p: 800-272-7226 f: 713-682-2079
RACO Interior Products, Inc. is the industry leader in the development and manufacturing of interior aluminum doorframes and windows for use in commercial office buildings. RACO is a Texas based company that was started in 1972. RACO currently has over 150,000 square feet of manufacturing facilities.
Location: Auburn, WA
p: 888-803-9533 f: 253-333-5166
Vetrotech Saint-Gobain's innovative products have been available to the North American market since the 1980's. Our production facilities have been producing fire-rated glass at our state-of-the-art factories near Seattle, Washington since 2000. We provide a range of fire-resistant products including fire-rated doors, curtain wall, and storefronts.
Location: Wassau, WI
p: 888-759-2678 f: 715-842-4616
Major Industries has always been focused on providing durable, high-performance daylighting systems. Major's ultimate goal is to make your designs a reality, and to help create a translucent skylight or wall system that works for both aesthetic demands and occupant comfort.
Location: Bensalem, PA
p: 215-244-9080 f: 215-244-1877
FRP Architectural is a leading manufacturer for fiberglass and aluminum doors. Their product offerings include narrow-style, medium-style, and wide-style fiberglass reinforced polyester doors.
Location: Monett, MO
p: 800-365-4924 f: 417-737-7140
Wintech is an industry leader in the light commercial window market.
Location: Adams, MA
p: 844-744-5277 f: 844-794-5277
School Guard Glass offers the thinnest, most durable laminated glass on the market. School Guard Glass has designed and tested a product that specifically meets the needs of school security while eliminating the blast and bullet proof aspect of the product and thus the majority of the costs. SGG's purpose was to create a forced entry protection product. This makes gaining access extremely difficult and the perpetrator will spend no less than 5 minutes trying to gain access.
Location: Texas
p: 903-833-1052
IE; Blinds is to be the ultimate choice for between the glass blind applications. Whether you are a facility engineer, a general contractor, business owner, glass company, hardware supplier, or manufacturer, we want you to call us for your between the glass blind needs. Our mission is to produce an eco-friendly, appealing alternative to traditional window treatments, in a cost-effective, efficient and consumer-friendly design that easily retrofits or accommodates both existing and new commercial glazing applications.